Get e Stamp paper Online in Chennai
Being situated on the Coromandel Coast of the Bay of Bengal, Chennai, the capital city of Tamil Nadu has played a very crucial role in the traditional, historical and academic growth of India, representing the different elements of the highest variety of the Dravidian civilization and culture. Today, Chennai formerly Madras, is the 4th largest metropolitan city of India and is also the leading and emerging commercial center of South India., led by the booming economy of the city, affiliated with leading industries including automobile, software, petrochemicals, financial services, textiles, and hardware industries. Additionally, Chennai, being an important metropolitan city is very well-connected to all the major cities of India as well as with the neighboring foreign counterparts attracts a lot of immigrants from South India as well from pan India be it for jobs, business, and investment purpose or just to settle down, hereby increasing the demand of notary services like e stamp papers, stamp papers, rental agreements, affidavits, registrations etc.
About Notary Services in Chennai
After an overwhelming response for more than 4 years in the major cities of India like Bangalore, Delhi, and Hyderabad, NotaryKart recently extended its Notary services in the metropolitan coastal city of Chennai, the capital of Tamil Nadu. In order to verify, authenticate, certify or attest the execution of any instrument, Notary services is used., which are being in terms of the Notaries Act refer to document by which any right or liability is to be, like creating, transferring, modifying, extending, suspending, extinguishing or to be recorded. Whenever a Notary, notarizes a document, the person shall authenticate, certify and attest the document by assuring the identity of the person who has signed the document, certifying that the document is a true copy of the original and attests meaning, that person bears witness. Notary services are governed by Notary Cell managed by the Department of Legal Affairs.
Since its common for many legal as well as business documents to be notarized, Civil law and criminal law have express provisions whereby any affidavit verified by a Notary in Chennai is admissible as evidence in the Court of Law. A notary is appointed by the Central and State Government under the Notaries Act 1952. We at Notarkart can help you get the best online documentation doorstep services in the city of Chennai.
Following steps should be considered for getting Stamp Paper online in Chennai:
1

Just fill required information

2

Enter shipping / Delivery address

3

Review & make payment online

4

Get delivered at your doorstep
---
Step 1:

Just fill the required information in our website http://www.notarykart.com
Step 2:

Enter Shipping / Delivery Address
Step 3:

Review entered details and make the payment online
Step 4:

Finally get the stamp paper home delivered to your desired address.
---
How it works?
Step-1

Just fill the required form online in our website

Step-2

Get a confirmation call from NotaryKart
Chennai Stamp Paper Format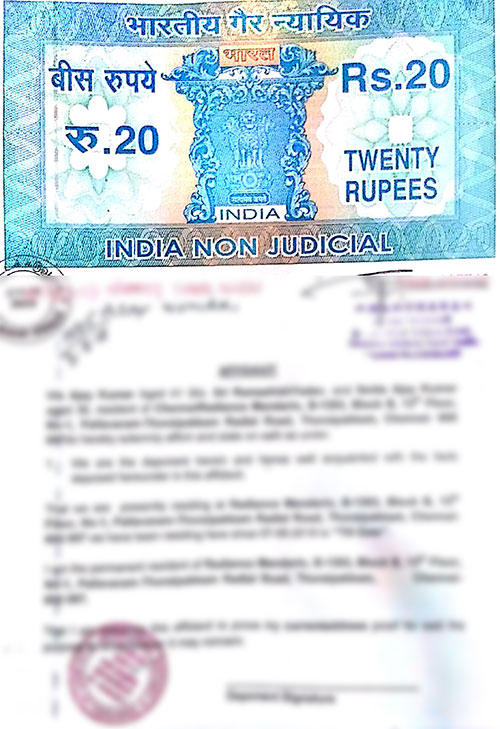 What is Notary?
A Notary is appointed by the Government under the Notaries Act 1952, is a person authorized to perform certain legal formalities, especially to draw up or certify contracts, deeds, and other documents for use in other jurisdictions which makes the document legally binding and legitimate.
About Stamp Duty in Chennai
Stamp duty is paid when one is buying property like a house or flat in Chennai. Stamp duty needs to be paid on all documents that are registered for authenticity. Stamp Duty is paid on instruments such as Agreement to Sell, Exchange of Property, Conveyance Deed, Partition Deed, Power of Attorney, Settlement, and Deed and Transfer of the Lease and many more.
Buy Stamp Papers online in Chennai
After 3 years of expertise and providing top class stamping services in the major cities of India like Bangalore, Delhi, and Hyderabad, NotaryKart is extending its stamp paper including online notary services to the coastal city of Chennai. NotaryKart is offering stamp paper services online where you can place an order for stamp paper Chennai, at the click of a button by providing necessary credentials and the same will be delivered by courier within few working days.
Just by visiting the portal, www.notarykart.com and entering the details for the stamp paper online, make an online payment and the stamp paper will be delivered to your mentioned address in the coastal city of Chennai.
To enable smooth and safe online transactions, NotaryKart enables multiple online payment options including Credit card, Debit Card, wallets, Internet Banking. In addition, we also, accept International credit cards for purchasing stamp papers online in Chennai.
Order Stamp papers in Chennai and get home delivery
NotaryKart provides stamp paper writing if you need agreements, deeds to be printed on stamp paper in Chennai.
When we receive your order online we buy stamp paper stamp vendor in Chennai whose details will appear on the stamp paper.
After successful online payment, the stamp paper purchased online in Chennai at NotaryKart will be shipped to your doorstep within 2-3 working days.
How to get stamp paper online in Chennai?
A user is required to key following search query in Google "stamp paper online Chennai" following the query, jump to the portal http://www.notarykart.com
Choose the type of stamp paper required
Choose your payment option
Make the payment online
Finally get the stamp paper doorstep delivered to your desired address in Chennai through courier
Frequently Asked Questions (FAQs)
1. What is meant by Stamp Duty and where to find out the stamp duty payable?
Stamp duty is a kind of tax levied on instruments, the website contains Guideline value and Stamp duty payable. Even counters in sub-registrar offices have been opened for replying to such queries about payment of stamp duty prescribed by the state government.
2. What is the document for which stamp duty is required as prescribed by the State Government?
The affidavit, adoption deed, sale deed, gift deed, lease deed, mortgage, license, partition deed and settlement deed etc.
3. What is the document for which stamp duty is required as prescribed by the Central Government?
Promissory Note, Bill of Landing, Insurance Policy, Transfer of Shares etc.
4. When the Stamp Duty to be paid and validity of stamp papers purchased online?
Generally, stamp duty shall be paid before or at the time of executing a document and there is there is no time limit and stamp papers can be used anytime
5. Does paying Stamp Duty to vary from Instrument to Instrument and from state to state?
Yes, payment of Stamp duty varies from instrument to instrument including from state to state.
6. Where to get stamp paper in Chennai?
Stamp paper can be availed in Chennai at stamp vendors where citizens can be able to get stamp papers, people who want to save their precious time and money can buy online by visiting www.notarykart.com to buy stamp paper in Chennai